Kristi
and I descended upon
Sarah's
place in Kingston, NY for a crafty get together. It was uh-may-zin. It involved Sonic limeades, singing the Five Guys review song, a lengthy Michael's trip, a $20 bag of cheese and yarn. Lots of yarn.
I got in Friday evening after stopping in Albany and seeing my mom. Sarah, Chris and I headed to
Boitson's
for some dinner. Man, this place is good!! We shared some Devile on Horseback (bleu cheese-stuffed dates wrapped in bacon) and butternut squash fritters, both delicious. They've also got a fun cocktail menu- I had a Catskill Cocktail with Cucumber vodka. YUM. The Polenta Napoleon hit the spot for dinner.
Chris drank this:
Steph arrived soon after we got home and Sarah and Chris got a fire started in the wood stove. They disagree on how to best keep it going. :)
The next morning, Kristi arrived as we were waking up, which was very impressive to the rest of us. We tore into some delicious Long Island bagels and coffee/tea while catching up. We hit the farmer's market where we procured a $20 bag of cheese:
Later when we got it home and started going through it and unwrapping for snacks, we realized why it's such a great deal. Let's just say that some of the "expiration dates" are "rubbed off." And some of the soft cheese is "not good." I was really looking forward to that Blue Brie, but we all agreed something was afoot when given the sniff test. There were plenty of other winners, though. And Steph made some uh-may-zin guac which we devoured.
We hit up Michaels so we could get supplies for the afternoon to supplement what we already had. I had seen these awesome yarn wreaths on line and had been wanting to make one of my own. They seem so simple! Just wrap yarn around a wreath form and then make felt flowers and decorate as you please. So simple...
So here's how this went. Kristi and I started our yarn wreaths. Almost immediately, I encountered the biggest clusterfluff of a yarn entanglement ya ever did see. In my stubborn way, I was determined to just unravel the knot so I could proceed. This was time-consuming. And eventually, I simply cut the yarn, tied it and kept wrapping til I'd hit another knot. It should be noted that while Kristi hit a small knot when she started, she had smooth sailing for the rest of her wrapping. As tedious as it was, she persevered and was done before I was even halfway finished. Forgive the bluriness, I was so fatigued by my yarn knot, I couldn't even focus.
Show off.
I would like to now include this illustrative pictorial mostly taken by Kristi.
It looks like I'm amused by this. I am not.
I finally get going!
So close...
I LOVE THIS WREATH. SO MUCH.
The final snip...
A little hot glue...
Other action shots:
Sarah made some beautiful tags
Sarah probably telling Chris she didn't want him to be dick. (an amazing autocorrect)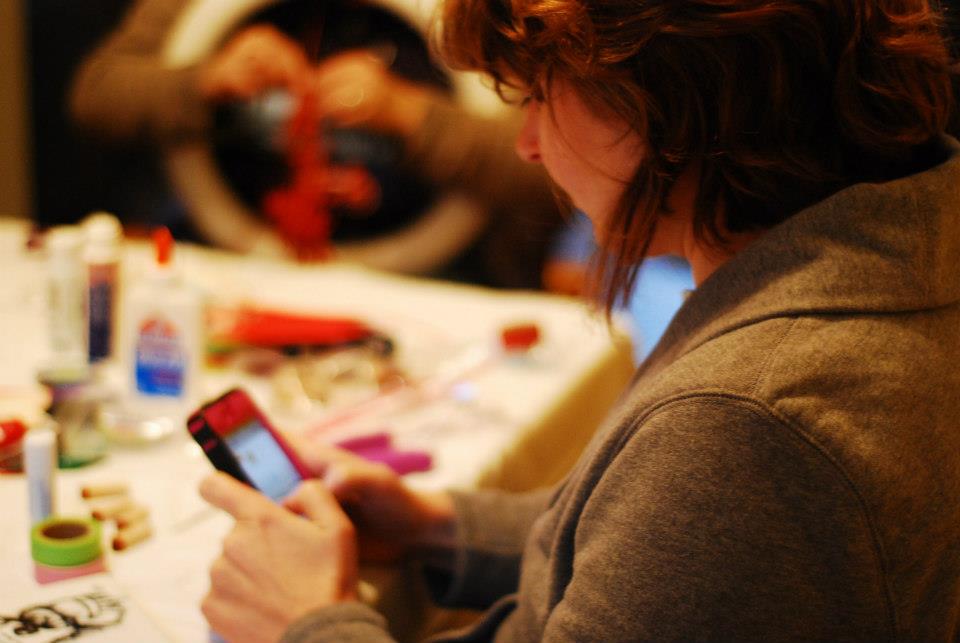 Steph hard at work
The table...hard at work...
Steph made these awesome magnets. Used very appropriately here
Magnets in process
Phoebe wants in on the action
Steph made spaghetti pie for dinner and we had a salad made from greens for the farmer's market. So good!!
We stayed up for SNL and freaked when Jean K. Jean came on. Sarah made another wood stove fire and it was so cozy!
The next morning we had more bagels and coffee/tea and sadly said our goodbyes. As always, my time with my friends goes WAY too quickly. I'm going to have to host the next crafty weekend in the New Year! I love and miss youse guys! I like Steph's idea about the house where we all live.
Oh, and that yarn wreath? I FINALLY finished it this weekend and it's hanging on the front door as I type this.
BAM:
FYI, made using
this wreath tutorial
and
this felt flower tutorial
. Aside from the knot, it really was pretty simple. I think I'm gonna make another for Christmas!!
Earlier this month, Steph,
Current Mood:

artistic